Let Stress Melt Away & Enjoy A Relaxing Scalp Massage Anytime, Anywhere Whit our electric scalp massager!
Our handheld wireless scalp massager provides deep tissue kneading and relaxes your mind and body.
FEATURES AND BENEFITS
Get a Full-Body Massage: Electric Head Massager can also be used to get a full-body rejuvenation. You can also use the device to massage your shoulder, neck, back, arms, and legs too. This will also be an ideal device to soothe your fur buddies and relax them out.

Rechargeable Battery: The wireless scalp massage is equipped with a powerful inbuilt rechargeable battery that makes it more convenient to operate. Just plug in the USB to an adapter, to the laptop or power bank in order to juice it up. It will run for 90 minutes at a stretch before you feel the need to put it down for recharging.

Quiet Operation: Unlike other messaging devices, Electric Head Massager emits a very low sound that indicates the messager is on. This, however, will not disturb the sleep of children or other people around you.

Compact and Conveyable: Electric Head Massager has a very sturdy construction yet extremely lightweight so it doesn't feel heavy to lift up to your head. Its compact design allows you to use it anywhere and get a massage on the go. It can be easily stored in a backpack or handbag or can be kept in the drawer of your office and you can get a massage whenever you feel stressed out.

Premium Quality Material: Made from premium grade ABS and Silica Gel, Electric Head Massager is extremely strong and durable to resist longer durations of work. It has a powerful motor that will keep the device working for a long time.
Equipped with four rubber massaging hands, Electric Head Massager has bi-directional rotation to provide an all-around calming effect. It gently massages all the occupants to release the entire day's tension and provides you with therapeutic benefits.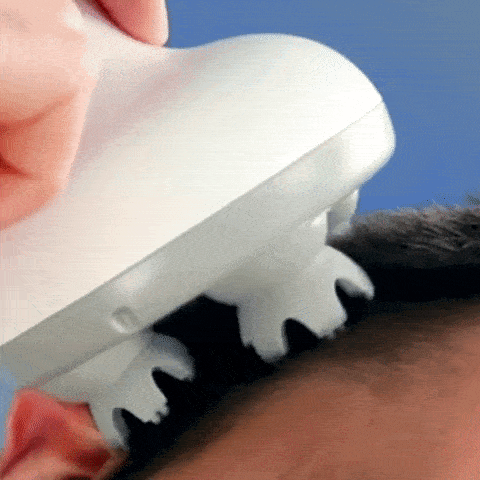 Relaxation anywhere, anytime!
✅ Food-grade silicone massage head enables great resistance to pulling and oxidation, better toughness and more durable.
✅ Totally 2 working modes and each mode has 2 intensity levels, you can instantly switch by pressing the power button and mode button         according to your demands.
✅Life-stimulation kneading and relaxing vibration can effectively promote blood circulation on your scalp to relieve and eliminate the              tension and pressure.
✅ IPX7 waterproof design allows for both wet and dry use, and the detachable grippers can be removed easily for cleaning convenience,           clean and healthy.
✅ Whisper quiet and low power consumption delivers continuous enjoyment without disturbing others, energy saving.
✅ Come with a charging base to provide quick and safe charging experience, and it will automatically shut off after fully charged in case           of over charge.
You can use this massager even for pets!
Specifications
Material: ABS+Silicone
Massage Head: 4 Separate Heads
Working Mode: 2 Modes -- Kneading/Kneading + Vibration
Strength Level: 2 Levels -- Low/High
Application: Head, Shoulder, Arm, Waist, Leg, Foot
Working Time: 10 Minutes Intelligent Timing
Charging Voltage: 5V/1A
Power: 5W
Battery Type: Built-in Rechargeable 1200mAh Battery
Power Supply: USB Charging
Noise: <50dB
Package Included:
1* Electric Head Massage
1* Charging Base
1* USB Cable
1* User Manual